Comment Corner
A testimony from Sal Novella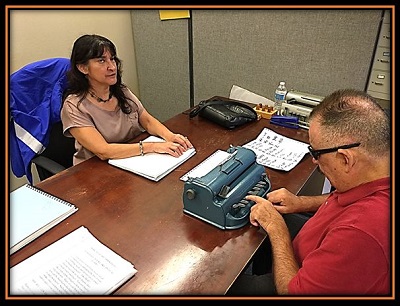 I am a graduate of the blindness support services I first want to thank all the wonderful staff and especially all my instructors. I started school about two years ago with a disability of having low vision at the age of sixty. I had to relearn a new way of life and it sounded impossible for this old man. But I was determined and two years later I have learned more skills in mobility, living skills, 3 books of Braille and especially my Assistive technology with the Jaws Screen Reader, and other programs in computer, iPhone 6, iPad, victor-reader. These are all my great devices that a person with low vision or blind would need. Now I am ready to move on with my life. We are people who want equality in life. So other persons with vision loss, you also can do the same. Set your goals higher in your life. Again I want to give all the BSS staff and my wonderful counselor at the DOR, Thanks. I will always be grateful and thankful for their support and their dedication.
Sincerely, Sal Novella
---
Teresa: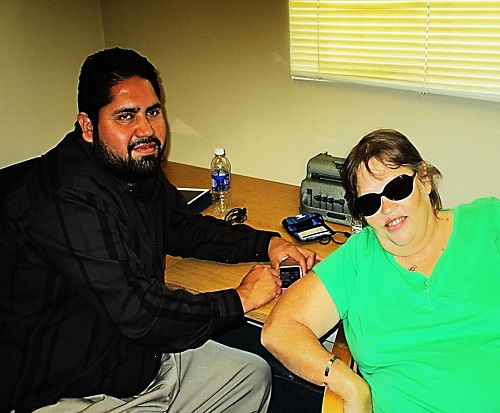 Why I enjoy Technology Class
Before I began my first technology class, I could not use my Voice Over Command on my iPhone, because it would control my phone. Since meeting my instructor, Luis Hernandez, I can control my Voice Over Command, and I have learned many other things I can do with my iPhone. Luis is in the process of teaching me about megabytes, terabytes, and so on, things I have not had the chance to learn before. He also has the patience of a saint. Luis makes me feel like I can learn by telling me, it is ok, it just takes time. I am honored to be his first student.
Thank you, Blindness Support Services for giving me the opportunity to learn from great people.
Teresa A Carter-Mealer
Vision Advocate for the NFB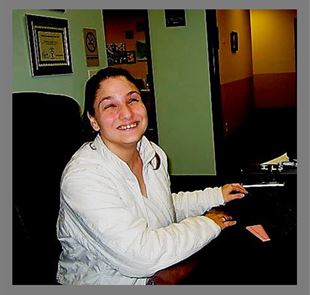 Dani:
My name is Dani Ridgman.
I am blind from premature birth. I have been using Braille for all of my life. I like Braille for writing notes, but Audio books are better. I received a computer from a grant. They set up an Email for me and it had JAWS, but I didn't use it. I love BSS. The Technology department has taught me so much about computers and the JAWS program. Now I am more confident using a computer. I can send E-mails, be more interactive using the Internet. I can also use Microsoft Word. At first I couldn't do anything on the computer, I was afraid to touch it, but with Feliciano as my instructor I learned how to do these things. He helped me learn these programs and now my chances at finding a job are much greater.
Thanks Blindness Support Services.
Dani Ridgman March 2, 2015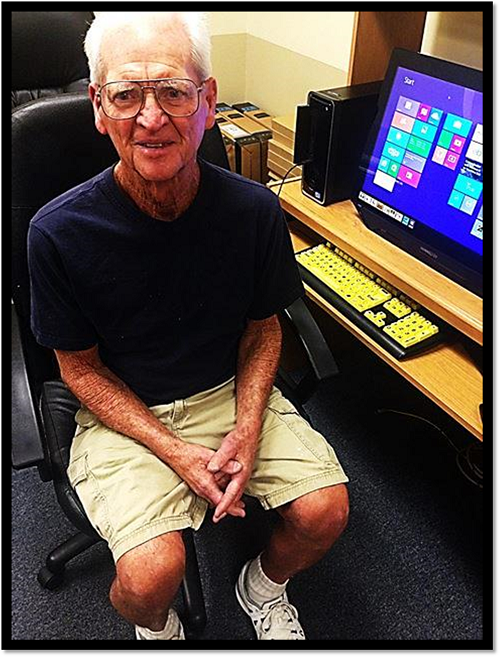 Richard:
My vision impairment is the result of slow and steady onset of Retinitis Pigmentosa. It continuously causes retinal damage through a lifetime. I have been declared 'legally blind' for many years now. I have eighty-one years behind me. The Technology Department at Blindness Support Services in Riverside is the 'breath of fresh air' all Riversiders need to know about. I started training sessions about a year ago. They are one on one with my instructor, Feliciano Godoy. He has re-introduced me to computer skills I had abandoned. He demonstrated reader/magnification programs that I heard of but could not seem to grasp. He patiently guided me through learning the keyboard and helped me understand technology devices designed for visually impaired individuals. Prior to my experience at BSS, I had disengaged from the computer. I participated less and less in day to day business activities. The Technology Department at Blindness Support Services has re-energized my interests and essentially given me a brand new 'outlook'.
Thank you BSS Technology Department. Your services and outreach is second to none.
Richard Gabriel 2/06/2015