Welcome to Blindness Support Services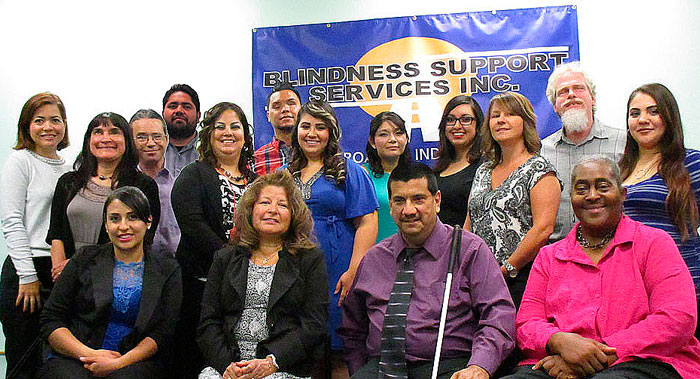 BSS staff photo 2016
| | |
| --- | --- |
| | We are dedicated to teaching those who are blind or have visual impairments to become more independent and adapt to the challenges they have. |
---
Check Out Our Latest Video
Blindness Support Services Presents
"The Children's Department Annual Christmas Benefit 2017"
---
If you have any questions about the changes to the Riverside Transit Agency and the Closing of the Downtown Bus Terminal please call the Blindess Support Main Office at: (951) 341-9244.
If you were a client and had Travel Training at BSS, and these changes affect you, you qualify for retraining. RTA will close the terminal the night of January 7, 2017 in order to shift service to the new and upgraded bus stops throughout the downtown area. For the most current project schedule visit the project webpage or contact the RTA Customer Information Center at
(951) 565-5002.
---
| | | |
| --- | --- | --- |
| Upcoming Events | | BSS Calendar |
---
La Red Social Para Latinos (Spanish Peer Support)
Adjustment to Blindness Peer Support Group for Spanish Speaking Blind Patrons
This event will be on Friday, January 13,
from 10am-12noon at BSS.
We will have a representative from the Alzheimer's Association who will be doing a presentation about Alzheimer's Disease.
Afterwards there will be a meet and greet session to get familiar with the new group of peers. Free to the public. This is an Adjustment to Blindness Peer Support Group where you can come and discuss the issues you face as a blind person. This group is for people who speak Spanish.
Descriptive Movie Presentations
Thursday January 19, at Blindness Support Services.
We will be presenting these descriptive movies.
Movie Times are at:
9:30 a.m. - Drama/Action Feature
1:30 p.m. - Animation Feature
We host descriptive movie presentations for blind and visually impaired audiences.
There is a $3.00 donation and a variety of snacks are available for purchase.
Adjustment to Blindness Peer Support Group/Health and Safety Presentation
This event is held on the third Friday of the month from 10am-12noon at BSS.
The Health and Safety presentation is to inform and teach everyone about being safety minded and healthy well-being at home and in the work place.
Are you having difficulties adjusting to blindness?
The Adjustment to Blindness is a peer group of Blind and Visually Impaired individuals who come together to discuss the issues about blindness and the challenges of coping with being Blind. Come to this meeting for open discussions about these issues. This group meeting is free to the public.
The event will take place at the BSS Main Office Facility located at 3696 Beatty Drive in the City of Riverside.
Come to our Apple Devices Club!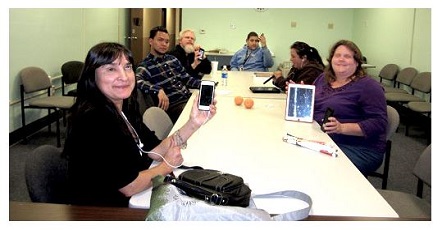 This event is held on the third Friday of the month from 1-3pm at BSS.
It's free to our Blind patrons and don't forget to bring your iPad, iPod, or your iPhone. There are many innovations to aid people who are blind. There are Apps for that and we will show you how to use them.
---
At Blindness Support Services we train people who are blind or visually impaired with specialized equipment and computer programs. We take in various kinds of blind people with a wide variety of needs.
Whereas some are in need of Mobility training, others need Independent Living Skills training. We also have two adjustment to blindness peer support groups that facilitate people who have lost their sight and are in need of group counseling. One group is for Spanish speakers and the other is for English speakers.
We have a Blind Children's Department where preschool age blind or visually impaired children are taught with tactile learning props and teaching tools as a precursor to reading Braille.
There is a Blind parenting class for parents who are blind and need help with child rearing practices and advice.
Our Department of Older Adults provides in-home visits for seniors and teach independent living skills to seniors who are blind or visually impaired.
There are a lot of different classes and resources here at blindness support services. Our Departments also provide training in Spanish.
Our goal is to help people who are blind achieve a higher level of independence so they can function by themselves in society.
---
Would you like to Volunteer?
If you are interested for internship or volunteering.
E-mail a filled out form below.
All volunteers will be screened.

Send form to info@blindnesssupport.com


If you would like more information,
please contact us at:
(951) 341-9244.