Welcome to Blindness Support Services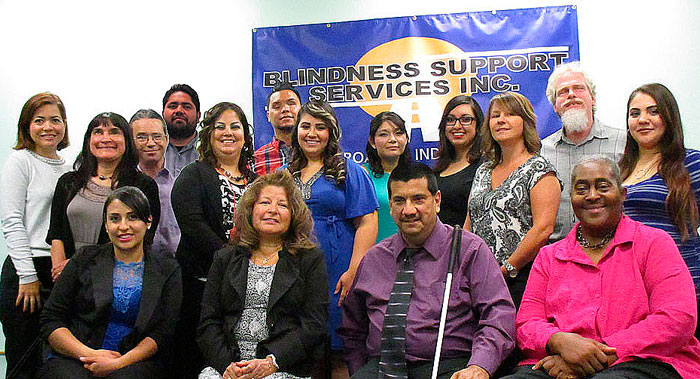 BSS staff photo 2015
| | |
| --- | --- |
| | We are dedicated to teaching those who are blind or have visual impairments to become more independent and adapt to the challenges they have. |
---
Upcoming Events
---
Peer Support Adjustment to Blindness Christmas Party
We are having our Annual Christmas Party for the Adjustment to Blindness Peer Suport Group. This will be held on Dec. 16, from 11:00am to 2:00pm.
The party will be at Cypress Springs on
7850 Cypress
Riverside, Ca.
RSVP please.
$5.00 pay in advance.
Snacks and other treats will be welcome, so bring your best.
For more information call our main office at: (951) 341-9244.
We will not have the following events in the month of December 2015:
Descriptive movie day
Apple Devices Club
Braille Club
La Red Social Para Latinos
---
For more information on these events, you can contact us at: (951) 341-9244.
---
On Every Tuesday: Arthritis Foundation Exercise Program
Do you have Arthritis pain?
Come to our Arthritis Exercise Program and learn how exercise can minimize pain due to Arthritis. There will be an AFEP Certified Instructor onsite. The exercise program will be on every Tuesday in November from 1:00pm to 3:00pm at Blindness Support Services.
This exercise program is provided by the Riverside Community Health Program and is free to the public.
---
At Blindness Support Services we train people who are blind or visually impaired with specialized equipment and computer programs. We take in various kinds of blind people with a wide variety of needs.
Whereas some are in need of Mobility training, others need Independent Living Skills training. We also have two adjustment to blindness peer support groups that facilitate people who have lost their sight and are in need of group counseling. One group is for Spanish speakers and the other is for English speakers.
We have a Blind Children's Department where preschool age blind or visually impaired children are taught with tactile learning props and teaching tools as a precursor to reading Braille.
There is a Blind parenting class for parents who are blind and need help raising children who can see.
There are Independent Living Skills instructors that go into senior citizens homes and teach independent living skills to seniors who are blind or visually impaired. There are a lot of different classes and resources here at blindness support services.
Our goal is to help people who are blind achieve a higher level of independence so they can function by themselves in society.
If you would like more information, please contact us at our main office by calling (951) 341-9244.