Welcome to Blindness Support Services
| | |
| --- | --- |
| We at Blindness Support Services are dedicated to teaching those who are blind or have visual impairments to become more independent and adapt to the challenges they have. | |
---
| | | |
| --- | --- | --- |
| Upcoming Events | | BSS Calendar |
---
Unless otherwise specified, the following meetings are held at
Blindness Support Services Inc.
3696 Beatty Dr. Riverside, CA 92506
*Our Meetings are invite only. Please contact us to RSVP before the meeting date.
Call: (951) 341-9244 or stop by our front desk
---
La Red Social Para Latinos (Spanish Peer Support)
Adjustment to Blindness Peer Support Group for Spanish Speaking Blind Patrons
When: Friday, January 10, from 10:00AM- 12:00PM
We have an Adjustment to Blindness Peer Support Group where you can come and discuss the issues you face as a person with a visual impairment. We have resources and tips to improve your independence. We have various topics and meet every second Friday of the month. This group is for people who speak Spanish.
---
Peer Support
When: Friday, January 17, from 10:00AM- 12:00PM
We have a Peer Support group where individuals that are blind are visually impaired can interact with others. We have various topics and activities. We meet every third Friday of the month.
To start off the new year, we will be having a guest speaker from Disability Voter Rights come out demo new ballot marking accessible voting tablets. These will be used for the upcoming elections next year in Riverside county.
---
Apple Devices Club
When: Friday, January 17, from 1:00- 3:00PM
We discuss topics related to Apple iPhone, iPod Touch and iPad Devices and Apps followed by open discussion. It is free to our Blind patrons and do not forget to bring your iPad, iPod, or your iPhone. If you do not have an Apple Device, but would like to Join us and learn, you are welcome to come! We meet the third Friday of every month.
---
Braille Club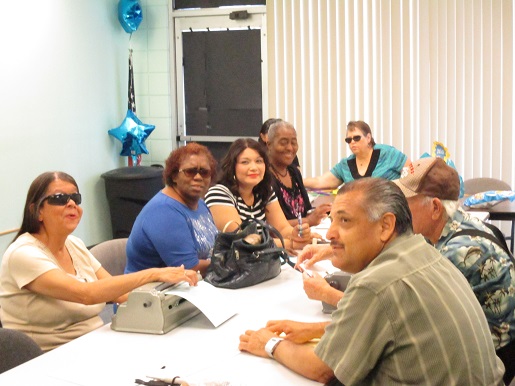 When: Friday, January 31, 2020 from 10:00AM- 12:00PM
Join us and have fun reading Braille material in uncontracted and contracted formats. Come and be a part of this club to maintain and increase the fluency of your Braille reading skills. We meet the last Friday of every month with various topics. RSVP today!
---
Would you like to Volunteer?
If you are interested for internship or volunteering and are 18 years of age or older
fill out and email the form below.
All volunteers will be screened.