Welcome to Blindness Support Services
MAY IS BLIND AWARENESS MONTH
---
Look here for all of the upcoming events as we kick off Blind Awareness Month !
May 2nd
Saturday Pancake Breakfast for $6
Come to BSS and bring your family and friends to learn about what we do here at BSS.
We will also be doing skits and other activities about the disposition of a blind person and what it is really like to be blind.
The event starts at 8am to 11am.
May 6th
Guide Dogs of the Desert are coming to BSS
We will have four guide dogs and the representatives from Guide Dogs of the Desert giving a special presentation.
Find out what it takes to be a guide dog and all of the training involved.
Take a walk with one of these amazing guide dogs. We will be giving demonstrations on walking with a guide dog.
This event will be on a Wednesday between 1pm to 4pm.
Click Here to Download the Guide Dogs Flyer.
---
HEALTH, MENTAL WELLNESS & FITNESS PROGRAM
As part of our continued commitment to improve upon the overall Health, Wellness and Fitness amidst persons blind and visually impaired, Blindness Support Services, (BSS) is partnering with Riverside County Mental Health to hold "Introduction To Wellness 2015."
This kickoff event is scheduled for Friday, April 17, 2015 at 10:00 am - 12:00; and will take place at the BSS Main Office Facility located at 3696 Beatty Drive in the City of Riverside.
Individuals that are blind or visually impaired and their families, friends and/or their significant others are welcome to attend.
Lunch will be offered at noon.
RSVP is required. Please call: (951) 341-9244 to register.
---
Come to our Apple Devices Club This Friday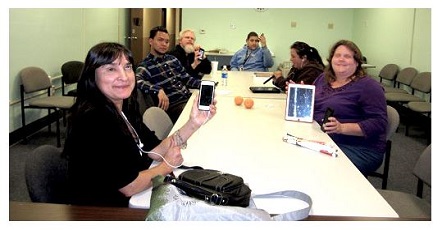 We have an Apple Devices Club that meets on the third Friday of every month.
It's free to our Blind patrons and don't forget to bring your iPad, iPod, or your iPhone.
We meet from 1:00 p.m. to 3:00 p.m.
There are many innovations to aid people who are blind.
There are Apps for that and we will show you how to use them.
---
At Blindness Support Services we train people who are blind or visually impaired with specialized equipment and computer programs. We take in various kinds of blind people with a wide variety of needs.
Whereas some are in need of Mobility training, others need Independent Living Skills training. We also have two adjustment to blindness peer support groups that facilitate people who have lost their sight and are in need of group counseling. One group is for Spanish speakers and the other is for English speakers.
We have a Blind Children's Department where preschool age blind or visually impaired children are taught with tactile learning props and teaching tools as a precursor to reading Braille.
There is a Blind parenting class for parents who are blind and need help raising children who can see.
There are Independent Living Skills instructors that go into senior citizens homes and teach independent living skills to seniors who are blind or visually impaired. There are a lot of different classes and resources here at blindness support services.
Our goal is to help people who are blind achieve a higher level of independence so they can function by themselves in society.
If you would like more information, please contact us at our main office by calling (951) 341-9244.