Welcome to Blindness Support Services
| | |
| --- | --- |
| We at Blindness Support Services are dedicated to teaching those who are blind or have visual impairments to become more independent and adapt to the challenges they have. | |
---
| | | |
| --- | --- | --- |
| Upcoming Events | | BSS Calendar |
---
Peer Support
Friday, August 17 from 10am-12noon at Blindness Support Services
Are you having difficulties adjusting to blindness? The Adjustment to Blindness is a peer group of Blind and Visually Impaired individuals who come together to discuss the issues about blindness and the challenges of coping with being Blind. Come to this meeting for open discussions about these issues. This group meeting is free to the public.
---
Apple Devices Club
Friday, August 17 from 1pm-3pm at Blindness Support Services
It's free to our Blind patrons and don't forget to bring your iPad, iPod, or your iPhone. There are many innovations to aid people who are blind. There are Apps for that and we will show you how to use them.
---
Braille Club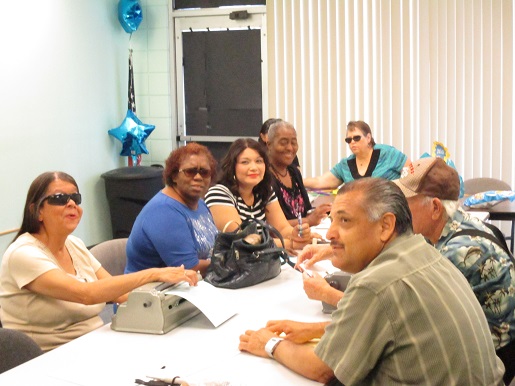 Friday, August 31 from 10am-12noon at Blindness Support Services.

Come on in and be a part of this club. Members must be able to read basic alphabets to complete words independently. We focus on maintaining and increase the fluency of your Braille reading skills.


Braille Club Rewards
Participants earn free entry to one Descriptive Video of their choice after attending ten consecutive Braille Club meetings. Invite your Braille Reading friends to come and improve their skill with monthly practice. BSS Students have priority on space available but every Braille Reader is welcome.
---
Blindness Technology and Low-Vision Workshop
Friday, August 10 from 8:30 am-12 noon at Blindness Support Services
Sweetman Systems presents Blindness Technology Workshop: 8:30AM-10:00AM
Sweetman Systems will be demonstrating: Hims Inc. , Humanware, Freedom Scientific Electronic Braille displays, Daisy book players, BrailleNote devices and JAWS screen reader/ Openbook scan and read for Windows.

Gary Polster LLC- Optelec US presents Low-Vision Technology Workshop 10:30AM-12:00PM
Gary Polster LLC- Optelec US will be Demonstrating Optelec US Electronic reading solutions as well as desktop and portable video magnifiers with Optical Character Recognition and Text-To-Speech Technologies.
---
At Blindness Support Services we train people who are blind or visually impaired with specialized equipment and computer programs. We take in various kinds of blind people with a wide variety of needs.
Some are in need of Mobility training, others need Independent Living Skills training. We also have two adjustment to blindness peer support groups that facilitate people who have lost their sight and are in need of group counseling. One group is for Spanish speakers and the other is for English speakers.
We have a Blind Children's Department where preschool age blind or visually impaired children are taught with tactile learning props and teaching tools as a precursor to reading Braille.
There is a Blind parenting class for parents who are blind and need help with child rearing practices and advice.
Our Department of Older Adults provides in-home visits for seniors and teach independent living skills to seniors who are blind or visually impaired.
There are a lot of different classes and resources here at blindness support services. Our Departments also provide training in Spanish.
Our goal is to help people who are blind achieve a higher level of independence so they can function by themselves in society.
---
Would you like to Volunteer?
If you are interested for internship or volunteering and are 18 years of age or older
fill out and email the form bellow.
All volunteers will be screened.