Welcome to Blindness Support Services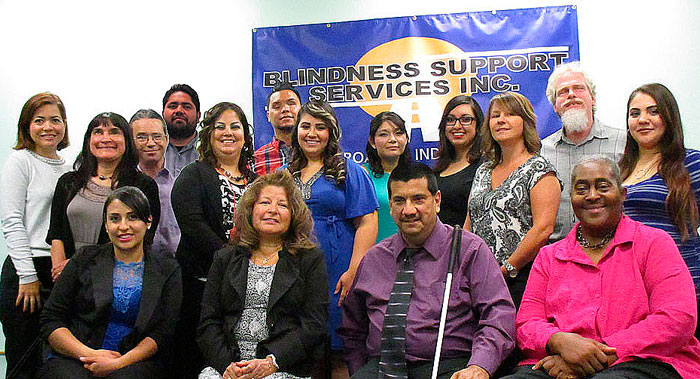 BSS staff photo 2015
| | |
| --- | --- |
| | We are dedicated to teaching those who are blind or have visual impairments to become more independent and adapt to the challenges they have. |
---
Upcoming Events
---
Adjustment to Blindness Peer Support Group for Spanish Speaking Blind Patrons
Free to the public. We have an Adjustment to Blindness Peer Support Group where you can come and discuss the issues you face as a blind person. This group is for people who speak Spanish. This group meets on the second Friday of each month from 10:00 a.m. to 12:00 noon.
This week we will be having our end of the year pot-luck. We will be planning next year's events and we will be playing Loteria using Braille.
---
Health Fair for DPSS Social Workers
On 10-15-15, BSS Children's Department will be participating in a Health Fair for DPSS Social Workers in the Metro & West corridors.
It will be at 11070 Magnolia Ave. Riverside, Ca. 92505 from 10am until 12pm.
If you have any questions, contact Lolita Barnard at (951) 715-2656
Download the Health Fair Flyer.
---
Fall Make-It Take-It
The Holiday Season Festivities kick-off for the Children's Program will be on October 28, 2015 from 9am until 12pm.
It is a Make-It-Take-It Literacy event for Blind/visually impaired children ages 0-5.
RSVP's a must to ensure enough supplies for attendees.
Please call (951) 341-9244 to save your spot.
A costume parade through the office will be the highlight of the event. Bring your child dressed to impress.
Monetary donations or donated candy for Trick-Or-Treat goodie bags would be welcome and appreciated.
If you have any questions, contact Lolita at 951-715-2656
Download the Make-It Take-It flyer.
---
At Blindness Support Services we train people who are blind or visually impaired with specialized equipment and computer programs. We take in various kinds of blind people with a wide variety of needs.
Whereas some are in need of Mobility training, others need Independent Living Skills training. We also have two adjustment to blindness peer support groups that facilitate people who have lost their sight and are in need of group counseling. One group is for Spanish speakers and the other is for English speakers.
We have a Blind Children's Department where preschool age blind or visually impaired children are taught with tactile learning props and teaching tools as a precursor to reading Braille.
There is a Blind parenting class for parents who are blind and need help raising children who can see.
There are Independent Living Skills instructors that go into senior citizens homes and teach independent living skills to seniors who are blind or visually impaired. There are a lot of different classes and resources here at blindness support services.
Our goal is to help people who are blind achieve a higher level of independence so they can function by themselves in society.
If you would like more information, please contact us at our main office by calling (951) 341-9244.