Welcome to Blindness Support Services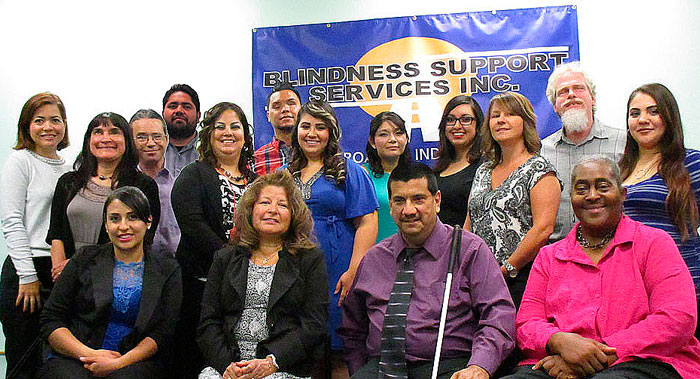 BSS staff photo 2016
| | |
| --- | --- |
| | We are dedicated to teaching those who are blind or have visual impairments to become more independent and adapt to the challenges they have. |
Make-It Take-It Workshop Pictures
Check the Children's Department Page and see the pictures
from Make-It Take-It
---
| | | |
| --- | --- | --- |
| Upcoming Events | | BSS Calendar |
---
| | |
| --- | --- |
| | Free Pancake Breakfast |
Saturday May 7th, 9am - 12pm
We will be giving tickets for the Pancake Breakfast at the front desk for FREE.
Talent Show
50/50 Raffle - tickets are $1.00 or 6 for $5.00
Beauty Contest
* Please pick up your ticket at the front desk and RSVP to reserve your
free Pancake Breakfast. Donations are accepted and thank you for helping BSS.
Breakfast will be served from 9:00am - 11:00am until the food runs out.
May is Blind Awareness Month at BSS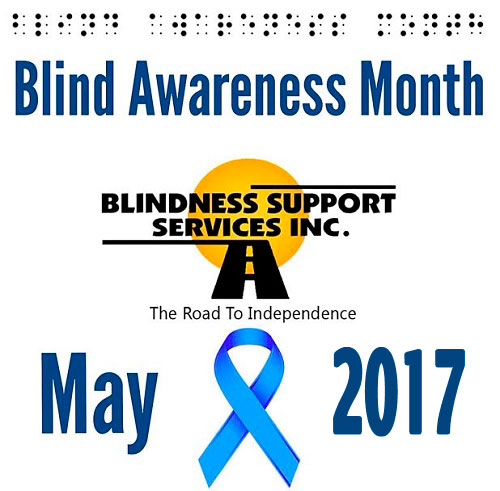 Blind Awareness Month (BAM), was started to highlight all that a Blind/Visually Impaired person is capable of accomplishing. The tools and skills developed to train those persons who come through the doors of Blindness Support Services are demonstrated to the public. Public knowledge helps the average person understand how this amazing population can thrive in our complex society. Take the time to come, learn and enjoy life from a different prospective.
Be sure to check our up-coming events and check the Blind Awareness Month page to see what events are planned.
---
Braille Club
Friday April 29, from 10am-12noon at BSS.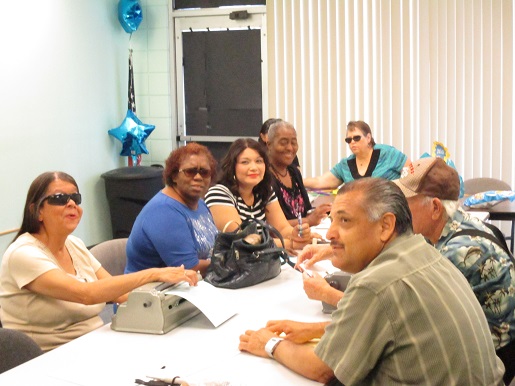 It is a lot of fun. Come on in and be a part of this club. We will have phrases printed in Jumbo Braille, Uncontracted Braille, and Contracted Braille. We will focus on how to maintain and increase the fluency of your Braille reading skills.
Braille Club Rewards
Participants earn free entry to one Descriptive Video of their choice after attending four consecutive Braille Club meetings or reading 20 unique braille strips at your designated level. Invite your Braille Reading friends to come and improve their skill with monthly practice. BSS Students have priority on space available but every Braille Reader is welcome. Remember to sign in so your participation is documented and you get credit for your accomplishments.
---
At Blindness Support Services we train people who are blind or visually impaired with specialized equipment and computer programs. We take in various kinds of blind people with a wide variety of needs.
Whereas some are in need of Mobility training, others need Independent Living Skills training. We also have two adjustment to blindness peer support groups that facilitate people who have lost their sight and are in need of group counseling. One group is for Spanish speakers and the other is for English speakers.
We have a Blind Children's Department where preschool age blind or visually impaired children are taught with tactile learning props and teaching tools as a precursor to reading Braille.
There is a Blind parenting class for parents who are blind and need help with child rearing practices and advice.
Our Department of Older Adults provides in-home visits for seniors and teach independent living skills to seniors who are blind or visually impaired.
There are a lot of different classes and resources here at blindness support services. Our Departments also provide training in Spanish.
Our goal is to help people who are blind achieve a higher level of independence so they can function by themselves in society.
---
Would you like to Volunteer?
If you want to be a volunteer, please contact our Case Coordinator,
Brenda Martinez at: bmartinez@blindnesssupport.com
You can also download and print the Volunteer form but you must contact us before you can volunteer. All volunteers must be screened and approved before they can participate.
If you would like more information, please contact us at our main office by calling (951) 341-9244.