Welcome to Blindness Support Services
| | |
| --- | --- |
| We at Blindness Support Services are dedicated to teaching those who are blind or have visual impairments to become more independent and adapt to the challenges they have. | |
---
Announcement!
Check out The 12 Days of Blindness, our version of the 12 Days of Christmas that revolves around things that happen after becoming blind or visually impaired
https://youtu.be/J9ui6DAbNjo
---
| | | |
| --- | --- | --- |
| Upcoming Events | | BSS Calendar |
---
Unless otherwise specified, the following meetings are held at
Blindness Support Services Inc.
3696 Beatty Dr. Riverside, CA 92506
*Our Meetings are invite only. Please contact us to RSVP before the meeting date.
Call: (951) 341-9244 or stop by our front desk
---
La Red Social Para Latinos (Spanish Peer Support)
Adjustment to Blindness Peer Support Group for Spanish Speaking Blind Patrons
When: Friday, February 8, 2019 from 10:00AM- 12:00PM
We have an Adjustment to Blindness Peer Support Group where you can come and discuss the issues you face as a person with a visual impairment. We have resources and tips to improve your independence. We have various topics and meet every second Friday of the month. This group is for people who speak Spanish.
This month, Glenda Macias with Clínica de Salud del Pueblo will be doing a presentation on low cost services for patients. We will also be playing Loteria.
---
Wellness Support Group
When: Friday, February 8, 2019 from 1:00PM- 3:00PM
Our Health & Wellness group is designed to help the blind and visually impaired pursue a safe, healthy, and active lifestyle. Topics vary monthly and generally center around diet and exercise this event is held on the second Friday of the month.
Tis month our health and wellness will be about whole grains and different ways to prepare them as well as planing a walk in March.
---
Senior Day
When: Wednesday February 13, 2019 from 10:00AM- 12:00PM
Senior Day is a support group that was created to empower seniors ages 55+ that are blind or Visually Impaired to get out in their communities. Our objective is for individuals to network with others, socialize and be more confident in new environments.
This month, Seniors will be meeting here at BSS and walking over to Panera as a group to have a meeting there and learn about dinning. For those who wish to have the menu ahead of time please email aquezada@blindnesssupport.com
---
Peer Support
When: Friday, February 15, 2019 from 10:00AM- 12:00PM
We have a Peer Support group where individuals that are blind are visually impaired can interact with others. We have various topics and activities. We meet every third Friday of the month.
---
Apple Devices Club
When: Friday, February 15, 2019 from 1:00- 3:00PM
We discuss topics related to Apple iPhone, iPod Touch and iPad Devices and Apps followed by open discussion. It is free to our Blind patrons and do not forget to bring your iPad, iPod, or your iPhone. If you do not have an Apple Device, but would like to Join us and learn, you are welcome to come! We meet the third Friday of every month.
For the month of February, we will be discussing social media platforms like Facebook, Twitter, and Instagram. Utilizing these platforms to Connect with friends, family and other community groups to connect with others with similar interests.
---
Guide Dogs of the Desert
When: Thursday February, 21 2019 from 1:00- 3:00PM
The Travel Training Department will be hosting a "get to know you" workshop with Guide Dogs of the Desert. This workshop is open to all who would like to learn about the admissions process to get into the school. The workshop conversations will be informal and you'll have an opportunity to ask any questions you have and also teach the new admins at Guide Dogs what we do here at BSS!
RSVP with Priscilla at (951) 288-1248 by Monday February, 18
---
Braille Club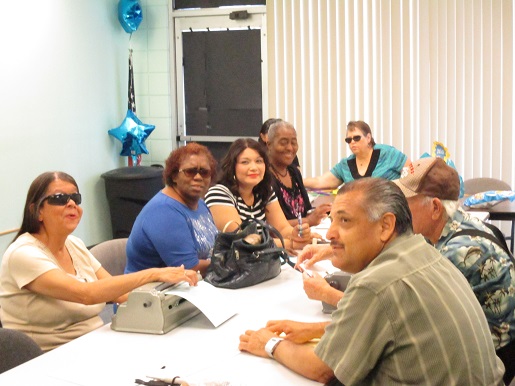 When: Friday February 22, 2019 from 10:00AM- 12:00PM
Join us and have fun reading Braille material in uncontracted and contracted formats. Come and be a part of this club to maintain and increase the fluency of your Braille reading skills. We meet the last Friday of every month with various topics. RSVP today!
---
Would you like to Volunteer?
If you are interested for internship or volunteering and are 18 years of age or older
fill out and email the form below.
All volunteers will be screened.