BSS's Children's Department

Blindness Support Children's Department supports families with children having visual challenges. Our teachers provide in home instruction, strategies and learning tools to help the parent support their child's basic development in preparation for entry into mainstream kindergarten.
All services are free, "Made possible by funding from First 5 Riverside".
---
Children's Department Park Day




Blindness Support Services & Braille Institute once again teamed up for Park Day at Fairmount Park.




Parents and their children came and enjoyed the accessible playground.
We want to thank all of our families who were able to attend and experience what park day is all about. Our kiddos enjoyed playing on musical squares, touching the Braille wall, going down the rolling slide and most importantly, swinging on the swings was a big hit. Parents assisted their children in making a tactile bird feeder in shape of an Easter bunny which required them to use their fine and gross motor skills to string the cheerios with the pipe cleaner. The kiddos also had some fun painting an Easter egg drawing with a cotton ball. Park day was such a success once again!
BSS Children's Department.
Quarterly activities are held at Blindness Support Services main office so families can share information, learn from each other, and create inexpensive learning tools on our Make-It & Take-It days.
---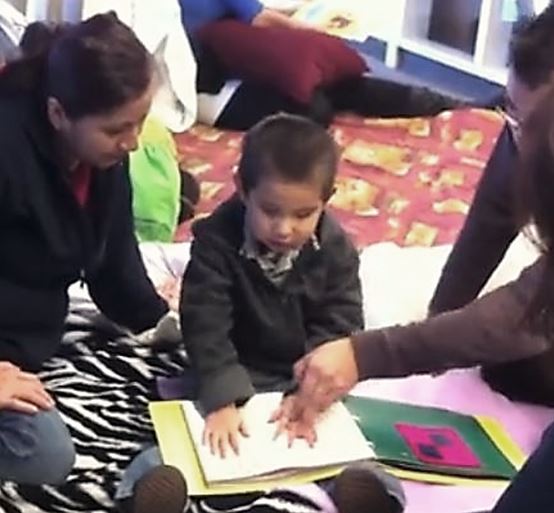 A Tactile Approach to Learning
Blind children and children with low vision are taught to touch tactile props and textures as a precursor to learning Braille.
Our goal is to equip these children and give them the skills necessary to enter mainstream kindergarten.
Teacher Training
Teacher training is available in Riverside, Corona and Moreno Valley. All teachers working with Special Needs Children who need new ideas to enhance learning are welcome to participate. Classes can be done at the main office or in other locations when there are 10 or more participants.
---
Our Annual Children's Christmas Party
BSS also hosts a children's Christmas party for the Program Participants in December. There are activities, stations, story time and fun for the whole family. Everyone will be able to take a picture with Santa and lunch will be provided.
---
Our Departments also provide training in Spanish for parents and children alike
For more information please contact: Lolita Barnard, Children's Program Manager at: (951) 715-2656 or contact the main office at: (951) 341-9244
You can also download and print our Children's Department Referral Form.