Travel Training
The Travel Training Program at Blindness Support Services Inc. offers travel training for seniors, veterans and individuals with disabilities, ages 16 years and over, on utilizing public transportation in Western Riverside County. Training is tailored to each person's individual needs and abilities. We train individuals how to travel independently using public transportation such as the fixed route bus (Riverside Transit Agency), Para-transit (Dial-A-Ride), Special Transportation, and Metro-Link.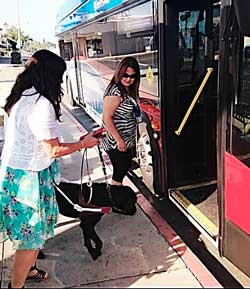 Our Travel Training program also provides training on Navigation services for iOS and Windows such as:
Google Maps
Apple Maps
Transit App real-time tracker
BlindSquare as well as Uber, Lyft, and other navigation Apps.
*Prerequisite-Must already know how to operate a smart phone/tablet and computer.
Veterans, seniors, blind/visually impaired and individuals with other disabilities qualify for our Travel Training program. Travel training is available for individuals outside of Riverside County as long as the individual needs travel training with the Riverside Transit Agency fixed route buses in Riverside County.
At the end of the program, participants will be given a FREE 30-day bus pass,
a white cane, and a talking watch key-chain. *Limited supplies.
If you reside somewhere outside our coverage area we will refer you to an agency that can assist you or give you information about transportation in your region.
If you would like Travel Training contact us at: (951) 341-9244.
For more information about our Travel Training services at BSS, please call our main office at (951) 341-9244.
---
Glossary of terms: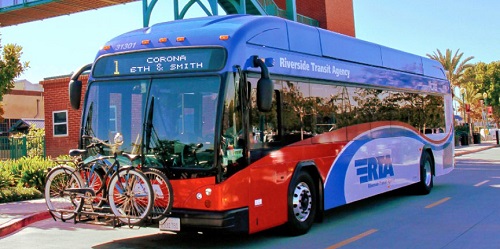 Fixed Route - public transit service provided on a repetitive, fixed-schedule basis along a specific route, with buses stopping to pick up passengers at and deliver them to specific locations.
RTA - Riverside Transit Agency
Para-transit - is a specialized, door-to-door transport service for people with disabilities who are not able to ride fixed-route public transportation.
Dial-A-Ride - services that consist of curb-to-curb, shared ride services available through appointments. Most of these services are for the elderly and persons with disabilities who reside in unincorporated County areas.
Specialized Transportation - provides curb-to-curb transportation to people who are unable to ride fixed route buses due to a mental or physical disability.
Our Departments also provide training in Spanish.
If you would like more information, please contact us at our main office by calling (951) 341-9244.
You can also download and print our Travel Training Referral Form.