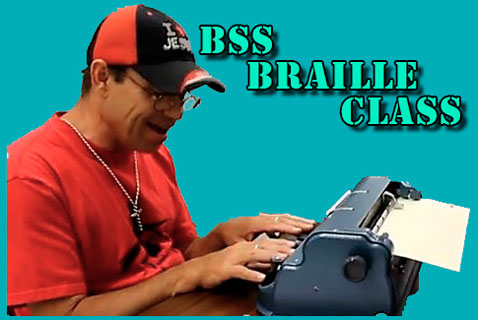 Services
We offer a variety of services at BSS.
Assistive Technology Training
Travel Training
Orientation and Mobility
New Unified English Braille
Braille
Grade One
Grade Two
Braille Transcribing
Independent Living Skills
Independent Living Skills for Seniors (55 - Up)
In-Home Training for Seniors (55 - Up) and for Blind or Visually Impaired Children
Blind and Visually Impaired Children's Education (0-5 years)
Blind Parenting Classes
Also available by appointment:
A Tactile Approach to Learning, Group Teacher Instructions for Teaching Blind Students - (must be a group of ten or more)
---
Would you like to Volunteer?
About Us Video
If you are interested for internship or volunteering.
E-mail a filled out form below.
All volunteers will be screened.
Send form to info@blindnesssupport.com
Our Departments also provide training in Spanish.
For more information please contact BSS at: (951) 341-9244