Events!
---
Check out all of the recurring events here at Blindness Support.
---
La Red Social Para Latinos (Spanish Peer Support)
Adjustment to Blindness Peer Support Group for Spanish Speaking Blind Patrons
Friday August 11 from 10am-12noon at Blindness Support Services 3696 Beatty Drive, Riverside, CA 92506
We will have two guest speakers. From 10am - 11am, Dwayna Green Wade, with Mary Kay, will be speaking about caring for and moisturizing your skin in the hot, dry, summers of Southern California. From 11am - 11:30am, Pamela Hanson, with Rite Aid, will be discussing the flu shot and how to be protected for free from Rite Aid. If this information sounds important to you come and you speak Spanish join us at out Spanish Speaking Peer Support Group.
We will be playing Loteria at the end of the meeting.
---
New Wellness Support Group
Friday, August 11th from 1pm-3pm at The Cypress Springs Apartments 7850 Cypress Avenue, Riverside, CA 92503
Blindness Support Services is pleased to announce the creation of a new Support Group designed specifically for persons blind/visually impaired and their families. Entitled "Wellness Support Group," this newly established gathering is designed to empower attendees to become healthier, more fit, and happier about themselves. We understand that vision loss poses many challenges to all of us, and are excited to be a part of working together to help lead more healthy lifestyles.
Come and join us for our first monthly session of the Wellness Support Group!
Please provide your RSVP to Lisa or Toni at (951)341-9244/(951)341-0232 no later than Wednesday August 9, 2017
---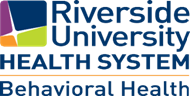 Mental Health Services (RUHS-BH)
Carlos Lamadrid will be facilitating one on one consultation sessions covering various topics. This will be on every second Tuesday of the month with 30 minute consultation sessions.
If you have a visual impairment Call our front desk to inquire!
No health insurance necessary!
Call (951)-341-9244
Consultations will be from 10:00am until 12noon and resume 1:00pm until 3:00pm.
---
Descriptive Movie Presentations
This event is held on the third Thursday of the month at BSS.
We will be presenting these descriptive movies.
Movie Times are at:
9:30 a.m. - Drama/Action Feature
1:30 p.m. - Animation Feature
We host descriptive movie presentations for blind and visually impaired audiences.
There is a $3.00 donation and a variety of snacks are available for purchase.
---
Adjustment to Blindness Peer Support Group/Health and Safety Presentation
This event is held on the third Friday of the month from 10am-12noon at BSS.
The Health and Safety presentation is to inform and teach everyone about being safety minded and healthy well-being at home and in the work place.
Are you having difficulties adjusting to blindness?
Friday, August 18 from 10am-12noon at BSS.
Blindness Support Services Peer Support Group will be welcoming Leslie McNeil. She will be discussing non-24 a disorder that affects your circadian rhythm (your internal clock). People with Non-24 experience a daily sift in the times when their body expects to be awake and asleep, causing periods when they are awake at night and want to sleep through the day. The circadian rhythm is greatly affected by light cues, or lack there of.
The presentation will last from 10am - 11am, and the second hour from 11am - 12noon will be spent giving one on one information. 
---
Come to our Apple Devices Club!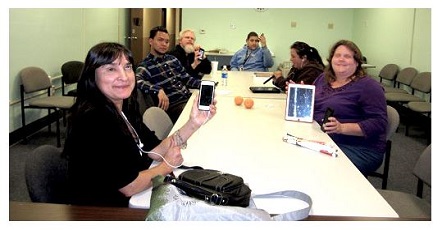 This event is held on the third Friday of the month from 1-3pm at BSS.
It's free to our Blind patrons and don't forget to bring your iPad, iPod, or your iPhone. There are many innovations to aid people who are blind. There are Apps for that and we will show you how to use them.
---
We Have A Braille Club
This event is held on the last Friday of the month from 10am-12noon at BSS.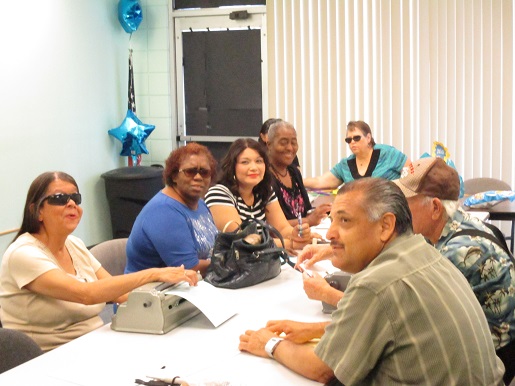 It is a lot of fun. Come on in and be a part of this club. We will have phrases printed in Jumbo Braille, Uncontracted Braille, and Contracted Braille. We will focus on how to maintain and increase the fluency of your Braille reading skills.
Braille Club Rewards
Participants earn free entry to one Descriptive Video of their choice after attending four consecutive Braille Club meetings or reading 20 unique braille strips at your designated level. Invite your Braille Reading friends to come and improve their skill with monthly practice. BSS Students have priority on space available but every Braille Reader is welcome. Remember to sign in so your participation is documented and you get credit for your accomplishments.
For more information on these events, you can contact us at: (951) 341-9244.