Comment Corner
A testimony from Sal Novella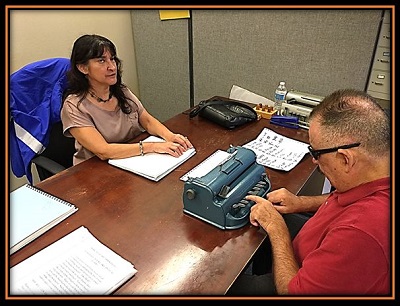 I am a graduate of the blindness support services I first want to thank all the wonderful staff and especially all my instructors. I started school about two years ago with a disability of having low vision at the age of sixty. I had to relearn a new way of life and it sounded impossible for this old man. But I was determined and two years later I have learned more skills in mobility, living skills, 3 books of Braille and especially my Assistive technology with the Jaws Screen Reader, and other programs in computer, iPhone 6, iPad, victor-reader. These are all my great devices that a person with low vision or blind would need. Now I am ready to move on with my life. We are people who want equality in life. So other persons with vision loss, you also can do the same. Set your goals higher in your life. Again I want to give all the BSS staff and my wonderful counselor at the DOR, Thanks. I will always be grateful and thankful for their support and their dedication.
Sincerely, Sal Novella
---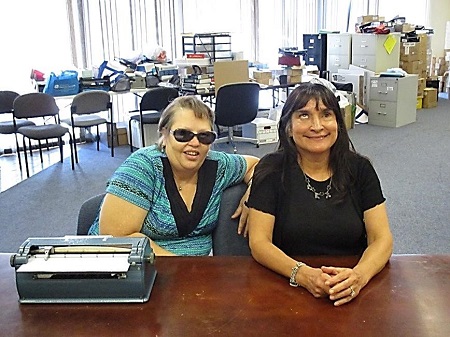 Teresa Carter-Mealer
Subject: Why I enjoy Braille Class
When my Vocational-Rehab Counselor first asked me if I would be interested in learning Braille, my first thought was YES! But then I remembered that I have neuropathy, a condition that affects the nerves, mainly in the finger tips and feet of diabetic people. I agreed to take the course, but still unsure that I would be able to succeed. Then I went to my first peer support meeting. After the meeting lunch was served while we were waiting for the Apple Club meeting to begin. This is where I met Christine Davidson and her guide dog, Bronx. When Christine told me that she taught Braille, I told her of my fear of the lack of being able to learn it. She told me that there were many ways to learn this language. When I learned to write in school, I did not start off writing in cursive, I started off writing with BIG letters. This could be the way that I would learn. I agreed to take the course. God blessed me with having her as my instructor. She is so patient with me. On days that I am not feeling well, she tells me to take my time, there is no rush. Now, after only two months, I am not only reading Braille, but now typing it.
Thank you Blindness Support Services for Christine and Bronx who greet me each time I come to class.
Teresa Carter-Mealer 8/01/2015
Vision Advocate for the NFB.