Events!
Check our Events page as events are subject to change at www.blindnesssupport.com
Sun
Mon
Tue
Wed
Thu
Fri
Sat
Blindness Support Services

1

2

3

4

Independence Day

5

6

7

8

9

10

11

12

13

14

15

16

17

18

19

20

21

22

23

24

25

26

27

28

29

30

31
---
Check out all of the recurring events here at Blindness Support.
---
La Red Social Para Latinos (Spanish Peer Support)
Adjustment to Blindness Peer Support Group for Spanish Speaking Blind Patrons
This event is held on the second Friday of the month from 10am-12noon at BSS.
Free to the public. We have an Adjustment to Blindness Peer Support Group where you can come and discuss the issues you face as a blind person. This group is for people who speak Spanish.
---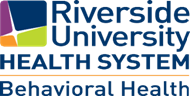 Mental Health Services (RUHS-BH)
Carlos Lamadrid will be facilitating one on one consultation sessions covering various topics. This will be on every second Tuesday of the month with 30 minute consultation sessions.
If you have a visual impairment Call our front desk to inquire!
No health insurance necessary!
Call (951)-341-9244
Consultations will be from 10:00am until 12noon and resume 1:00pm until 3:00pm.
---
Descriptive Movie Presentations
This event is open only to those Participating in the Children's Program

On Thursday July 20, Blindness Support Services' Children's Department will be privately showing two descriptive movies for children; Moana, from 9:30 am to 11;30 am, and Brave, from 1:30 pm to 3:30 pm. These descriptive movies provide the opportunity for the children that are blind/ visually impaired to know what is happening at all times throughout the movie.

Children's Program participants, RSVP to (951)341-8356 or (951)715-2656 NO LATER THAN Friday July 14.
Movie Times are at:
9:30 a.m. Moana
1:30 p.m. - Brave

If you have a child ages 0-5 and are interested on our Children department services, call us (951)715-2656 and click here to read more on how we can help children.
---
Adjustment to Blindness Peer Support Group/Health and Safety Presentation
On Friday July 21 from 10:00 am to 12:00 noon, Blindness Support Services will be welcoming back Andrew Berk, from Disability Rights California. He will be giving a presentation about public accommodations. In order to make his presentation more specifically relevant, Andrew would like to know what issues you would like to be discussed: examples would be issues such as service animals in private businesses or auxiliary aids and services in theaters.
Please contact us at (951)-341-9244, before July 12, with your suggestions.
The Adjustment to Blindness is a peer group of Blind and Visually Impaired individuals who come together to discuss the issues about blindness and the challenges of coping with being Blind. Come to this meeting for open discussions about these issues.

This event will take place at the BSS Main Office Facility located at 3696 Beatty Drive in the City of Riverside.
---
Come to our Apple Devices Club!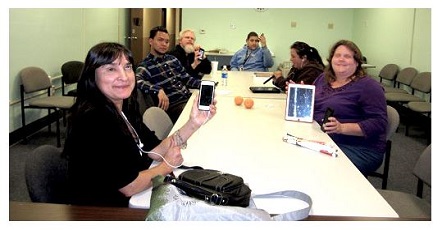 This event is held on the third Friday of the month from 1-3pm at BSS.
It's free to our Blind patrons and don't forget to bring your iPad, iPod, or your iPhone. There are many innovations to aid people who are blind. There are Apps for that and we will show you how to use them.
---
We Have A Braille Club
This event is held on the last Friday of the month from 10am-12noon at BSS.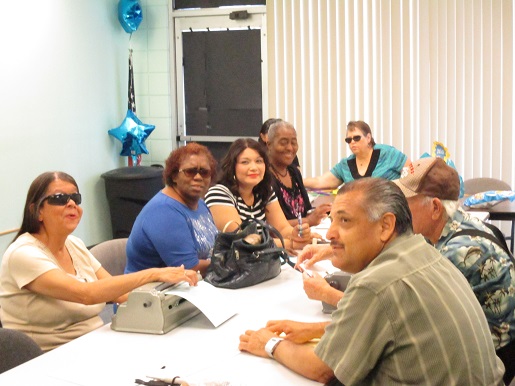 Come on in and be a part of this club. We will have phrases printed in Jumbo Braille, Uncontracted Braille, and Contracted Braille. We will focus on how to maintain and increase the fluency of your Braille reading skills.
Braille Club Rewards
Participants earn free entry to one Descriptive Video of their choice after attending four consecutive Braille Club meetings or reading 20 unique braille strips at your designated level. Invite your Braille Reading friends to come and improve their skill with monthly practice. BSS Students have priority on space available but every Braille Reader is welcome. Remember to sign in so your participation is documented and you get credit for your accomplishments.
For more information on these events, you can contact us at: (951) 341-9244.